Weekday Front Gardens and Rabbit Feeding Experience (including a Hot Beverage)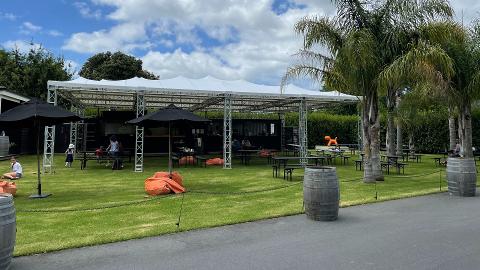 Duration: 60 Minutes (approx.)
Location: Auckland, Matakana
Product code: PDGNH3
Available Monday-Fridays only
Includes:
-Entry to our Front Gardens only (recommended viewing time 45 minutes)
-Rabbit Feeding Experience (approximately 20 minutes)
-Recieve a hot beverage of your choice from Freddie's Outdoor Kitchen
Booking instructions:
-Select your preferred Rabbit Feeding Time (11am, 12pm, 1pm)
-Collect your pass from the Tickets Desk in The Miro Room (you're welcome to go through the Front Gardens any time between 10am-2.30pm however we require you to be at Rabbiton for the feeding experience 5 minutes before your session)
-Please visit Freddie's Outdoor Kitchen at any point during your visit for your hot beverage

The Front Sculptureum Gardens
Your Garden of Creative Diversity walk begins in the Classical and Reflective gardens and features driftwood works by Jack Marsden, our Blooming Buckets sculpture by John Ferguson, as well as four aviaries and Rabbiton which is home to numerous rabbits and turtles.

Sculptureum can be enjoyed in all weather and we have umbrellas available for your use throughout your visit.

Tickets are valid only for the date you have selected (please contact us if you wish to alter the date you wish to visit).

Rabbit Feeding Experience

Rabbiton is home to Sculptureum's rescue lop-eared and many Flemish Giant rabbits.
Come and meet them at our rabbit feeding experience and learn how we care for them. They enjoy running around in Rabbiton, socialising and being handled.